What is an Audiology Booth?
The audiology booth (audiometric booth, audiometry booth) is also known as an auditory examination booth. Audiology Booth is designed to provide an environment for audiometric testing that meets the noise standards as set by the OSHA (Occupational Safety and Health Administration). To meet these noise standards, many audiologists use Eckel Audiology Booths.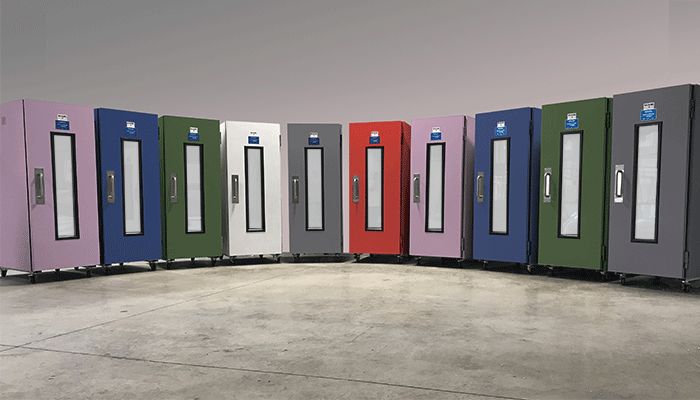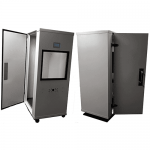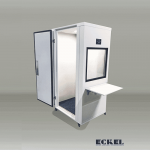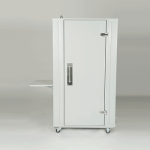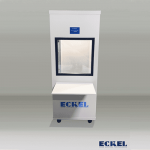 Pre-assembled and ready to use AB Series audiology booths offer high performance in a small package. Booths are small enough to fit through a standard doorway while large enough to conduct testing. Unique in the market for mini-size, acoustic integrity, durability and utility.
Choose from Cam-Lock & Fully Welded models. Cam-Lock models are fully demountable.
AB Mini Booths are suitable for:
Performance
OCTAVE BAND FREQUENCY (HZ)
ROOM MODEL
125
250
500
1K
2K
4K
NOISE REDUCTION (dB)
AB Series
19
28
38
46
52
54
*NIC - 26
• 2" (50mm) Cam-Lock Panel System or Fully Welded
• Universal LHH or RHH Door (Cam-Lock models only)
• 23" (584mm) W x 23" (584mm) H Double Glazed Square Framed Window
• In-wall 2" (50mm) Ventilation System
• Separate Light/Fan Switch
• 8 x ¼" (6.3mm) Phone Jacks
• 2 x USB Ports
• 1 x 1 ¾" (44mm) Pass Thru
• Heavy Duty Casters or Vibration Isolators
• Colour: Standard Eckel White, Luxury White, Beige, Warm Grey, & etc.(Full Range of colours are available)
• Pre-wired Electrics, Ready to Use
• Fully Demountable (Cam-Lock models only)
The fully demountable, Eckel AB-4200 Series of Audiology Booths feature unique all-steel, 2" (50mm) thick interlocking panels, utilizing our cam-lock system. The Eckel AB-200/2000 Series of Audiology Booths feature a fully welded construction utilizing 2" (50mm) thick acoustic panels.
Heavy flush-mounted door with continuous perimeter magnetic seal. Universal door swing, LH or RH hinge, can be changed in the field by turning the door panel. (Cam-Lock models only)
23" x 23" (584 x 584mm) square framed, double-glazed acoustic window. Interior sound absorbing barrier allows excellent visual observation and monitoring. Frame is removable for maintenance or glass replacement.
Silenced forced air ventilation is standard. Ventilation noise levels comply with published specifications and with added speed controller.
All rooms are supplied with CSA certified and standard tested, pre-wired 120 volt recessed internal electrical.
Power is supplied via a power cord connected to the customer's 120 volt source. For international customers country specific electric and cord configurations are available. Unit is pre-wired and includes 120" (3048mm) long supply lead which plugs into your local supply socket. Lighting fixture incorporates light/fan switch.
Available options include 120v -60Hz. CSA/UL Approved Electrical – C22.2 601.1 Medical Electrical Equipment and 240v configurations.
Standard finish is textured polyurethane enamel in Linear White, Lux White, Beige or Warm Grey; other colors available on request.
Ceiling Integrated Silencer Systems
The integrated silenced ventilation system consists of factory installed extract air fans and a passive intake air flow. The fans are quiet with low power consumption. For customers wanting to connect to their existing HVAC system, optional vent collars are available.
Commercial quality, color coordinated carpet provided for interior floor of booth.
Heavy duty casters (2x swivel, 2x locking) supplied as standard. Optional neoprene in shear, vibration isolators mounted on steel rails.
Single AB200, AB2000 and AB4230 models are packaged assembled on a small pallet and protected by heavy duty carton. Ab4240 and AB4250 are packaged assembled and supplied flat-pack, mounted on a pallet and protected. Cam-Lock model mini-booths are fully demountable. The Cam-Lock system allows minibooths to be handled, shipped and stored with ease.