What is an Audiology Room?
An audiology room, also known as an audiometric or auditory examination room, is specifically designed to provide an environment for accurate audiometric testing that meets the noise standards set by the American National Standards Institute (ANSI). To comply with these noise standards, many audiologists rely on Eckel Audiology Rooms.
How to Find the Perfect Room for You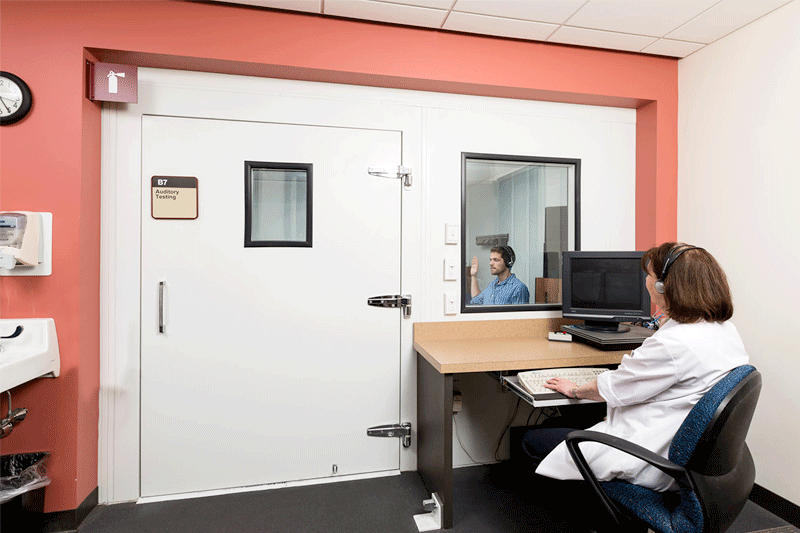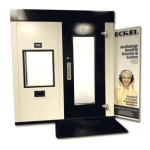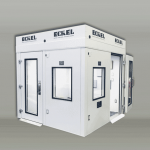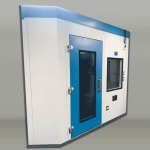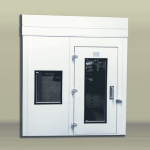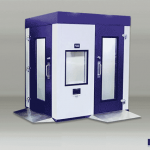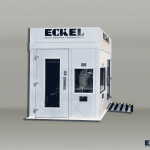 Single-Wall Audiometric Rooms
Double Wall Audiometric Rooms
Cam lock / H-Batten Rooms
Eckel's Camlock and H-Batten Series rooms are considered the gold standard in the audiology industry. These premium quality and innovative rooms offer a wide range of options designed for precise audiometric measurements, suitable for various applications including audiology, medical offices, research institutes, and more. The series is perfect for both industry and private clinics, and all models come equipped with a clinical jack panel for added versatility. They are particularly well-suited for sound field measurements, brain stem audiometry, and hearing aid evaluations.
Audiology Rooms are suitable for for:
Performance
OCTAVE BAND FREQUENCY (HZ)
ROOM MODEL
125
250
500
1K
2K
4K
NIC
NOISE REDUCTION (dB) - Single Wall
Camlock Core
19
30
39
50
58
59
41
Camlock Prime
24
32
44
53
58
61
45
Camlock Advanced
31
44
57
63
68
67
51
H-Batten
28
36
46
53
58
62
49
NOISE REDUCTION (dB) - Double Wall
Camlock Prime(D)
44
58
75
86
91
95
67
H-Batten Prime(D)
48
64
79
81
79
>95
70
H-Batten Advanced(D)
48
67
95
>95
>95
>95
71
• 4" (100mm) Cam-Lock Panel System or 4" (100mm) Flush Mount H-Batten System
• 36" (914mm) W x 73 3/4" (1873mm) H Door (11 and 11A rooms – 32″W x 73 3/4″H)
• 24" (610mm) W x 30″ (762mm) H Double Glazed Window
• Built in Attenuated Ventilation System
• Separate Switches for Internal Light and Fan with Speed Controllers
• Vibration Isolators
• Colour: Standard Eckel White, Luxury White, Beige, Warm Grey, & etc.(Full Range of colours are available)
• Fully Demountable
• Supplied Flat Pack (easily installed onsite)
• Wide Range of Models f Low profile options are available for all models
• Pre-wired Plug and Play Electrics
Wall & Ceiling Construction:
The wall panels measure 4" (100mm) and are made of a galvanized solid steel outer surface and a perforated steel inner surface. The ceiling panels are 6" (150mm) thick and include an integrated silenced ventilation system, with a galvanized solid steel outer surface and a perforated steel inner surface. The acoustic insulation varies depending on the panel type, but each panel system (Base, Prime) is independently tested to provide excellent transmission loss.
Isolated Floor Construction:
The floor panels are available in 2", 3", and 4" (50.8mm, 76.2mm, 101.6mm) thicknesses and are made of galvanized steel outer and inner (walking) surfaces. Heavy-duty framing members and an inner surface support consistent use and wheelchair accessibility. The acoustic insulation matches that of the wall and ceiling panels. All floors are installed on isolation mounts to protect against structure-borne noise sources. The overall step-up height is approximately 7" (175mm) from the outside.
Standard door clear openings measure 36" (914mm) in width and 73 3/4" (1873mm) in height. For rooms 11 and 11A, the door clear openings measure 32″W x 73 3/4″H. The doors are designed to offer similar acoustic performance to the walls and sit flush when installed. The hardware features chrome-plated hinges with a cam rise mechanism to ensure proper seating of the door and ease of closing. A 1" (25mm) door pull handle is included for ease of operation and ADA compliance. Door windows ranging from small to full size are available as an option. Alternate door sizes can also be accommodated.
Observation windows are included, with a typical nominal size of 24" (610mm) in width and 30" (750mm) in height. They are fabricated from two layers of laminated safety glass set in an extruded PVC window frame. Alternate sizes are also available to accommodate specific requirements.
All rooms come equipped with CSA-approved, pre-wired 120-volt recessed internal electrical, which includes both internal and external facing recessed hospital-grade duplex receptacles. Power is supplied via a power cord that can be connected to the customer's 120-volt source, or the system may be hardwired upon request. For international customers, country-specific electric and cord configurations are available, with a 240-volt option also available.
All rooms and suites, including single and double walls, are fitted with jack panels. Standard jack panels come with twelve .25" (6.3mm) phone jacks, two USB connections, and one 1" (25mm) diameter pass-thru. Non-standard configurations can also be provided to meet unique or specific jack requirements.
Standard finish is textured polyurethane enamel in Linear White, Lux White, Beige or Warm Grey; other colors available on request.
Ceiling Integrated Silencer Systems
The integrated silenced ventilation system comprises factory-installed exhaust fans and a passive intake airflow, which operates quietly and has low power consumption. Optional vent collars are available for customers who wish to connect their existing HVAC system.