M-Series : Clinical Audiology Multi Station Booth
What is a Multi Station Booth?
Multi Stations are ideal for group testing environments. The series features high performance acoustic doors, fully isolated floors, custom interior wall coverings, carpeting and low noise ventilation systems. Options include multi-glazed observation windows and Low Profile door- ways. Designed for trouble-free testing. Eckel Multi Station Suites are found in top tier audiology clinics, hospitals, and research facilities.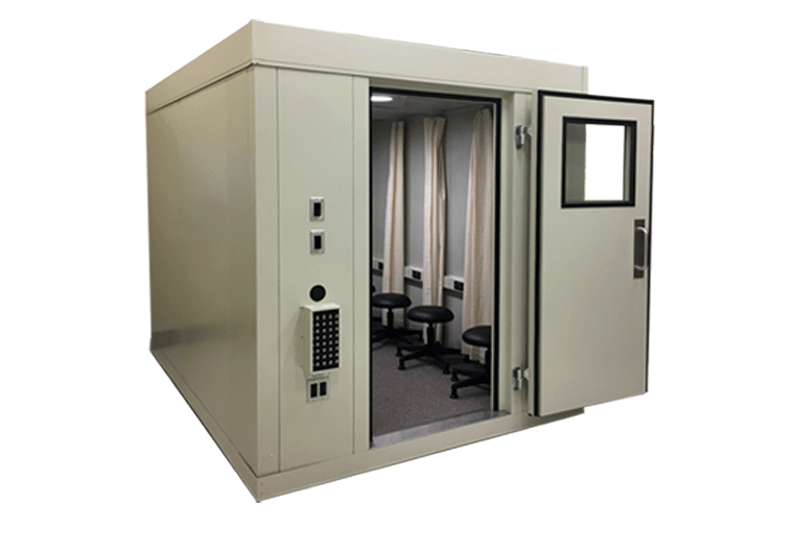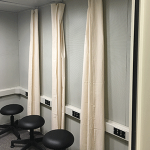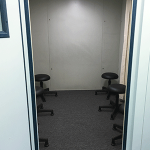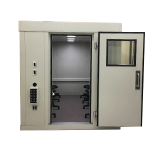 Single-Wall Multi-Station
Double-Wall Multi-Station
• 32" W x 73 3/4" H (813mm x 1873mm) Clear Opening Door
• 20" W x 22" H (508mm x 559mm) Window in Door
• LED Lighting, Privacy curtains, Master jack panel (pre-wired 4-pin individual jack panel track system), and a 3" (76mm) pass-through
Wall & Ceiling Construction
Wall panels are 4" (100mm) and fabricated of galvanized solid steel outer surface and perforated steel inner surface. Ceiling panels include an integrated silenced ventilation system and 6" (150mm) thick with galvanized solid steel outer surface and perforated steel inner surface. Acoustic insulation is dependent on panels and designed to provide independently tested transmission loss of selected panel system (Base, Prime).
Isolated Floor Construction
Floor panels are available in 2", 3" and 4" (50.8mm, 76.2mm, 101.6mm) thick fabricated from galvanized steel outer and inner (walking) surfaces. The floor panels are supplied with heavy duty framing members and inner surface to support consistent use and accommodation for clients requiring wheelchair accessibility. Acoustic insulation is consistent with that of the wall and ceiling panels. All floors are installed
on isolation mounts to protect against structure borne noise sources. Overall step up height is approximately 7" (175mm) from outside.
Standard door clear openings are 32" (810mm) W x 73 ¾" (960mm) H. The doors are designed to provide similar acoustic performance as the walls and to sit flush when installed. Hardware consists of chrome plated hinges with a cam rise mechanism to ensure both proper seating of the door and ease of closing. A 1" (25mm) door pull handle is used, assuring ease of operation and ADA compliance. Door windows from small to full size are available as an option. Alternate door sizes can be accommodated.
Ceiling Integrated Silencer Systems
The integrated silenced ventilation system consists of factory installed exhaust air fans and a passive intake air flow. The fans are quiet with low power consumption. For customers wanting to connect to their existing HVAC system, optional vent collars are available.
All rooms are supplied with CSA approved, pre-wired 120 volts recessed internal electrical, including internal and external facing recessed hospital grade duplex receptacles. Power is supplied via a power cord connected to the customer's 120 volts source or may be hard wired upon request. Country specific electric and cord configurations are available for international customers (240v option also available).
Jack panels are installed on all rooms and suites both single and double wall. Master Jack Panel (pre-wired 4-pin individual jack panel track system), and a 3″ (76mm) pass-through. Non-standard configurations are available to suit unique or specific jack requirements.
Standard finish is textured polyurethane enamel in Eckel White, Luxury White, Beige or Warm Grey; other colours available on request.